Яг одоо чанадаас халих бясалгал сурмаар байвал
"Би бясалгалд болгоомжтой ханддаг байсан... Гэхдээ найзууд минь эрүүл мэндэд өчнөөн тустай гэж яриад, тэгээд сурсан. Хийж эхэлснээсээ хойш би өдөр алгасалгүй бясалгаж байна. Амьдралыг минь асар их өөрчилсөн шүү."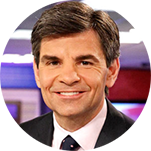 George Stephanopoulos
Чанадаас халих бясалгал зүрх судасны хэвийн эрүүл ажиллагааг сэргээдгийг тогтоосон 4 гол судалгаа
Эрүүл саруул, сэтгэл хангалуун амьдрахад зүрх амин чухал гэдгийг бүгд мэднэ. Чанадаас халих бясалгал зүрх судасны тогтолцоонд яаж нөлөөлдгийг судалсан судалгаатай танилцаж энэ энгийн, тааламжтай арга таны зүрхийг хэр найдвартай хамгаалж, сэргийлэхийг мэдэж авмаар байна уу?
Цусны даралтаа байгалийн жамаар нь хэвийн болгоё.
Америкийн Зүрх Судасний Холбоо 'Hypertension' (Их даралт) сэтгүүлээрээ Чанадаас Халих Бясалгал бол даралтыг дорвитой бууруулдаг нь судалгаагаар тогтоогдсон ганц бясалгал гэж мэдэгдсэн.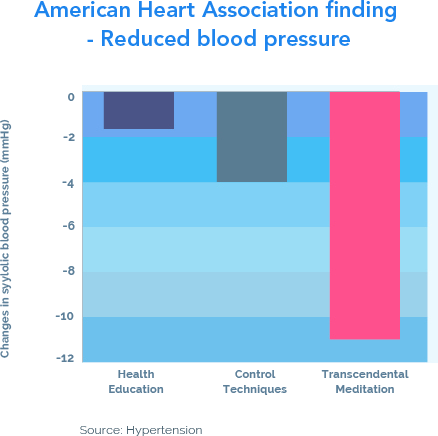 48% Reduction in heart attack & stroke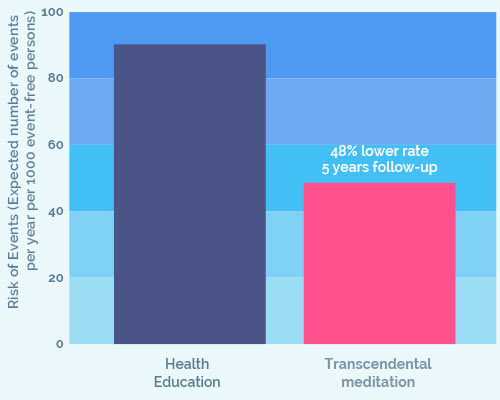 Source: Circulation Cardiovascular Quality and Outcomes
Зүрх хаагдах, цус харвалтыг багасгах гол арга
Зүрхний титэм судасны өвчтэй өвчтнүүдийг ЧХБ хийдэг, хийдэггүй хоёр бүлэг болгон судалсан 5 жилийн судалгааны үр дүнд зүрх хаагдах, цус харвах, зүрхээр нас барах нь Чанадаас Халих Бясалгал хийдэг бүлэгт 48% бага байгааг тогтоолоо.
"Хүний стресс" сэтгүүлд нийтэлсэн энэ судалгаагаар холесрол их гардаг Чанадаас Халих Бясалгал хийдэг хүмүүсийг хийдэггүй хүмүүстэй харьцуулахад холестролын түвшин нь хамаагүй сайн буурч байгааг тогтоожээ.
Чанадаас халих бясалгалаар холестрол буурдаг.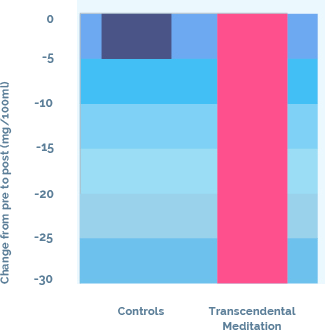 Сурвалж: Journal of Clinical Psychology (Клиник сэтгэлзүй сэтгүүл), 1989; 45:957-974
Гүрээний тараагуур судасны хатуурал нимгэрсэн нь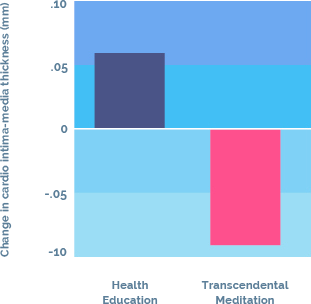 Source: Stroke
Судасны хатуурал багассан нь
Энэ судалгаагаар Чанадаас Халих Бясалгал сурсан хүмүүсийн гүрээний тараагуур судасны хатуурал багассан болохыг тогтоосон. Эсрэгээрээ хоолны дэглэм, дасгал хөдөлгөөн зэрэг эрүүл мэндийн боловсрол эзэмшин ашигладаг хяналтын бүлэгт энэ тараагуур буюу артерийн судасны хатуурал ихэссээр байсан байна.
ЧХБ эрүүл мэндэд хэрхэн нөлөөлдгийг тогтоосон судалгаанууд
2000 оноос хойш нийтэлсэн судалгаа
AndersonJW, Liu C, Kryscio RJ. Blood pressure response to Transcendental Meditation: a meta-analysis. American Journal of Hypertension 2008 21 (3):310-316
Barnes VA, Kapuku GK, Treiber FA. Impact of Transcendental Meditation on left ventricular mass in African American adolescents. Evidence-Based Complementary and Alternative Medicine 2012:923153, 1-6
Barnes VA, Orme-Johnson DW. Clinical and pre-clinical applications of the Transcendental Meditation program in the prevention and treatment of essential hypertension and cardiovascular disease in youth and adults. Current Hypertension Reviews 2006 2(3):207-21
Barnes VA, Orme-Johnson DW. El impacto de la reduccion del estres en el hypertension esencial y las enfermedades cardiovasculares. Revista Internacional De Ciencias Del Deporte (International Journal of Sports Science) 2008 4(12):1-30
Barnes VA, Orme-Johnson DW. Prevention and treatment of cardiovascular disease in adolescents and adults through the Transcendental Meditation® Program: a research review update. Current Hypertension Reviews 2012 8(3):227-242
Barnes VA, Schneider RH, Alexander CN, Rainforth M, Staggers F, Salerno, J. Impact of Transcendental Meditation on mortality in older African Americans with hypertension—eight-year follow-up. Journal of Social Behavior and Personality 2005 17(1):201-216
Barnes VA, Treiber FA, Davis H. Impact of Transcendental Meditation on cardiovascular function at rest and during acute stress in adolescents with high normal blood pressure.Journal of Psychosomatic Research 2001 51(4):597-605
Barnes VA, Treiber FA, Johnson MH. Impact of stress reduction on ambulatory blood pressure in African American adolescents. American Journal of Hypertension 2004 17(4):366-369
Bovee JC. Effects of Transcendental Meditation on blood pressure: a literature review.Modern Psychological Studies 2006 11:1-11
Brook RD, Appel LJ, Rubenfre M, Ogedegbe G, Bisognano JD, Elliott WJ, Fuchs F, Hughes JW, Lackland DT, Stafleno BA, Townsend RR, Rajagopalan S. Beyond medications and diet: alternative approaches to lowering blood pressure. A scientifc statement from the American Heart Association. Hypertension 2013 61(6):1360-1383
Castillo-Richmond A, Schneider RH, Alexander CN, Cook R, Myers H, Nidich S, Haney C, Rainforth M, Salerno J. Effects of stress reduction on carotid atherosclerosis in hypertensive African Americans. Stroke 2000 31(3):568-573
Cunningham CH, Brown S, Kaski JC. The effects of Transcendental Meditation on symptoms and electrocardiographic changes in patients with cardiac syndrome X: a pilot study.American Journal of Cardiology 2000 85(5):653-655
Fields JZ, Walton KW, Schneider RH, Nidich SI, Pomerantz R, Suchdev P, Castillo-Richmond A, Payne K, Clark ET, Rainforth M. Effect of a multimodality natural medicine program on carotid atherosclerosis in older subjects: a pilot trial of Maharishi Vedic Medicine. American Journal of Cardiology 2002 89(8):952-958
Fields JZ, Walton KW, Schneider RH, Nidich SI, Pomerantz R, Suchdev P, Castillo-Richmond A, Payne K, Clark ET, Rainforth M. Effect of a multimodality natural medicine program on carotid atherosclerosis in older subjects: a pilot trial of Maharishi Vedic Medicine. American Journal of Cardiology 2002 89(8):952-958
Haaga DAF, Grosswald S, Gaylord-King C, Rainforth M, Tanner M, Travis F, Nidich S, Schneider RH. Effects of the Transcendental Meditation program on substance use among university students. Cardiology Research and Practice 2011 – published online at Cardiol Res Pract. 2011:537101
Jayadevappa R, Johnson JC, Bloom BS, Nidich S, Desai S, Chhatre S, Razian D, Schneider RH. Effectiveness of Transcendental Meditation on functional capacity and quality of life of African Americans with congestive heart failure: a randomized control study. Ethnicity and Disease 2007 17:72-77
King MS, Carr T, D'Cruz C. Transcendental meditation, hypertension and heart disease.Australian Family Physician 2002 31:164-168
Kondwani KA, Lollis CM. Is there a role for stress management in reducing hypertension in African Americans? Ethnicity and Disease 2001 11:788-79
Nidich S, Rainforth M, Haaga D, Hagelin J, Salerno J, Travis F, Tanner M, Gaylord- King C, Grosswald S, Schneider R. A randomized controlled trial on effects of the Transcendental Meditation program on blood pressure, psychological distress, and coping in young adults.American Journal of Hypertension 2009 22(12):1326-1331
Orme-Johnson DW, Barnes VA, Hankey AM, Chalmers RA. Reply to critics of research on Transcendental Meditation in the prevention and control of hypertension. Journal of Hypertension 2005 23(5):1107-1108
Orme-Johnson DW, Barnes VA, Schneider RH. Transcendental Meditation for primary and secondary prevention of coronary heart disease. In: R Allan, J Fisher (eds), Heart & Mind: the Practice of Cardiac Psychology, 2nd edition (pp.365-379). Washington DC: American Psychological Association, 2011
Paul-Labrador M, Polk D, Dwyer JH, Velasquez I, Nidich SI, Rainforth M, Schneider RH, Bairey Merz CN. Effects of a randomized controlled trial of Transcendental Meditation on components of the metabolic syndrome in subjects with coronary heart disease. Archives of Internal Medicine 2006 166(11):1218-1224
Rainforth MV, Schneider RH, Nidich SI, Gaylord-King C, Salerno JW, Anderson JW. Stress reduction programs in patients with elevated blood pressure: a systematic review and meta-analysis. Current Hypertension Reports 2007 9(6):520-5
Schneider RH. Response to AHA scientifc statement on alternative methods and BP: evidence for upgrading the ratings for Transcendental Meditation. Hypertension 2013 62(6):e42
Schneider RH, Alexander CN, Salerno J, Rainforth M, Nidich S. Stress reduction in the prevention and treatment of cardiovascular disease in high risk underserved populations: a review of controlled research on the Transcendental Meditation program. Journal of Social Behavior and Personality 2005 17(1):159-180
Schneider RH, Alexander CN, Staggers F, Orme-Johnson D, Rainforth M, Salerno J, Sheppard W, Castillo-Richmond A, Barnes VA, Nidich SI. A randomized controlled trial of stress reduction in African Americans treated for hypertension for over one year. American Journal of Hypertension 2005 18(1):88-98
Schneider RH, Alexander CN, Staggers F, Rainforth M, Salerno JW, Hartz A, Arndt S, Barnes VA, Nidich SI. Long-term effects of stress reduction on mortality in persons >/=55 years of age with systemic hypertension. American Journal of Cardiology 2005 95(9):1060-1064
Schneider RH, Castillo-Richmond A, Alexander CN, Myers H, Kaushik V, Aranguri C, Norris K, Haney C, Rainforth M, Calderon R, Nidich S. Behavioral treatment of hypertensive heart disease in African Americans: rationale and design of a randomized controlled trial.Behavioral Medicine 2001 27(2):83-95
Schneider RH, Grim CE, Rainforth MV, Kotchen T, Nidich SI, Gaylord-King C, Salerno JW, Kotchen JM, Alexander CN. Stress reduction in the secondary prevention of cardiovascular disease: randomized, controlled trial of Transcendental Meditation and health education in blacks. Circulation: Cardiovascular Quality and Outcomes 2012 5(6):750-758
Schneider RH, Nidich SI, Salerno JW. The Transcendental Meditation program: reducing the risk of heart disease and mortality and improving quality of life in African Americans.Ethnicity and Disease 2001 11:159-160
Schneider RH, Walton KG, Salerno JW, Nidich SI. Cardiovascular disease prevention and health promotion with the Transcendental Meditation program and Maharishi Consciousness-Based Health Care. Ethnicity & Disease 2006 16(3) Supplement 4:15-26
Walton KG, Schneider RH, Nidich SI. Review of controlled research on the Transcendental Meditation program and cardiovascular disease—risk factors, morbidity and mortality.Cardiology in Review 2004 12(5):262-266
Walton KG, Schneider RH, Nidich SI, Salerno JW, Nordstrom CK, Merz CN. Psychosocial stress and cardiovascular disease. Part 2: effectiveness of the Transcendental Meditation program in treatment and prevention. Behavioral Medicine 2002 28(3):106-123
Walton KG, Schneider RH, Salerno JW, Nidich SI. Psychosocial stress and cardiovascular disease. Part 3: clinical and policy implications of research on the Transcendental Meditation program. Behavioral Medicine 2005 30(4):173-183
2000 оноос өмнө нийтэлсэн судалгаа
Agarwal BL, Kharbanda A. Effect of transcendental meditation on mild and moderate hypertension. Journal of the Association of Physicians of India 1981 29:591-596
Alexander CN, Schneider RH, Staggers F, Sheppard W, Clayborne BM, Rainforth MV, Salerno J, Kondwani K, Smith S, Walton K, Egan B. Trial of stress reduction for hypertension in older African Americans: II. Sex and risk subgroup analysis. Hypertension 1996 28(2):228-237
Barnes VA, Schneider RH, Alexander CN, Staggers F. Stress, stress reduction, and hypertension in African Americans. Journal of the National Medical Association 1997 89(7):464-476
Cooper M, Aygen M. Effect of meditation on serum cholesterol and blood pressure. Harefuah, Journal of the Israel Medical Association 1978 95(1):1-2 Herron R, Schneider RH, Mandarino JV, Alexander CN, Walton KG. Cost-effective hypertension management: comparison of drug therapies with an alternative program.American Journal of Managed Care 1996 2(4):427-437
Schneider RH, Alexander CN, Wallace RK. In search of an optimal behavioral treatment for hypertension: a review and focus on Transcendental Meditation. In EH Johnson et al. (eds), Personality, Elevated Blood Pressure, and Essential Hypertension (pp.291-312). Washington DC: Hemisphere Publishing, 1992
Schneider RH, Staggers F, Alexander CN, Sheppard W, Rainforth M, Kondwani K, Smith S, King CG. A randomized controlled trial of stress reduction for hypertension in older African Americans. Hypertension 1995 26(5):820-827
Wallace RK, Silver J, Mills PJ, Dillbeck MC, Wagoner DE. Systolic blood pressure and long-term practice of the Transcendental Meditation and TM Sidhi program: effects of TM on systolic blood pressure. Psychosomatic Medicine 1983 45(1):41- 46
Walton KG, Pugh BS, Gelderloos P, Macrae P. Stress reduction and preventing hypertension: preliminary support for a psychoneuroendocrine mechanism. Journal of Alternative and Complementary Medicine 1995 1(3):263-283
Wenneberg SR, Schneider RH, McLean C, Levitsky DK, Walton KG, Mandarino JV, Salerno JW, Wallace RK, Waziri R. A controlled study of the effects of Transcendental Meditation on cardiovascular reactivity and ambulatory blood pressure. International Journal of Neuroscience 1997 89(1/2):15-28
Zamarra JW, Schneider RH, Besseghini I, Robinson DK, Salerno JW. Usefulness of the Transcendental Meditation program in the treatment of patients with coronary artery disease. American Journal of Cardiology 1996 77 (10):867-870